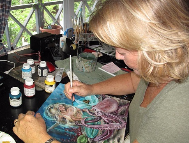 Katie McConnachie is from Los Angeles, California and now lives on the island of Antigua in the West Indies. She began her artistic career painting Special Effects for Hanna Barbera Productions in Hollywood, California before moving to the island in 1985. Katie's delightful wildlife illustrations utilize Prismacolor Pencil, Acrylic Painting, Ebony Pencil and Pen and Ink.
Her resume includes opening a number of galleries with her originals and prints, Children's Book Illustrator, Antiguan Postage Stamp Creator and Commercial and Residental Muralist.
Katie's favorite medium is Prismacolor pencils which afford her drawings an incredible amount of detail work. She also works a great deal with Acrylic Paints. Her subject matter spans from her Pet Portraits, Cats, Dogs, etc. to Native Island and Underwater Wildlife.